ABOUT PUNNYAM CHARITABLE TRUST
Punnyam Trust is an organization aimed solely at doing charity.It is dedicated to help the poor and sick who have no one to turn to.It is a charitable trust registered in the state of Kerala in India ( Reg. No. 76/2003 ). Its office is at Theerthapadapuram at Vazhoor village in Kottayam district in the State of Kerala. It has been doing different sorts of charitable activities like running an orphanage, providing free medical aid to the poor, rehabilitation of the helpless,and free education for the poor , since 2003.
It has been awarded 12A and 80G certificates by the Income Tax Department, Government of India.Its orphanage is recognized by the Board of Control for Orphanages and other Charitable Homes, Government of Kerala( Certificate of Registration No. 1333).
Tenth Anniversary Celebrations
The trust is happy to announce its Tenth Anniversary Celebrations on Saturday April 29, 2017 at 2 PM. Along with the celebrations Honorable Minister Krishan Pal Gurjar, Minister of State for Social Justice and Empowerment will lay the cornerstone for our new project "Vaanaprastha" a place for the elderly. We cordially invite you and family to participate and festivities and make this a successful celebration.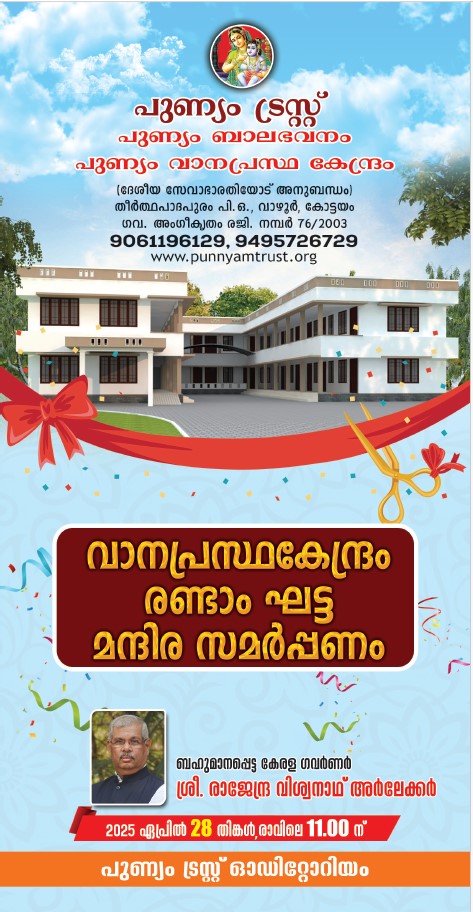 Medical Help

The trust helps the sad preys of chronic illness and accidents,who have no one to look them after, by shouldering the responsibility of taking them to hospitals and arranging all sorts of medical help.
Rehabilitation
When the most unfortunate ones stand stunned at severe strokes of fate that leave them helpless with no food and shelter, the Trust lends them helping hands by finding them some sort of solace in the form of new shelter and livelihood.
Help for Education
The Trust adopts a number of poor students every year and provides them everything for good and proper education .In addition to financial assistance the Trust monitors their progress periodically and gives them all needed guidance and encouragement for better performance.
PUNNYAM BALA BHAVANAM (An Orphanage for Boys )
The most glittering jewel in the crown of the Trust's noble activities is the Bala Bhavanam, an orphanage for boys.The Trust fosters orphan boys till they become self reliant , by bringing them up in the best academic, cultural, physical and spiritual environment.